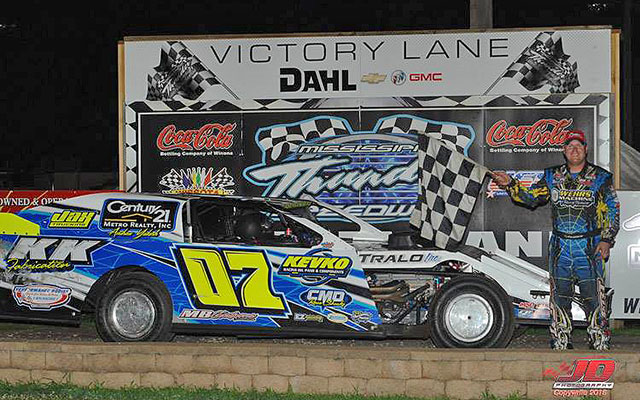 Just a week after a record-setting crowd jammed the grandstands for the 8th Annual Rivercity Rumble, fans and competitors returned to Mississippi Thunder Speedway for more "Fast & Furious, Family-Friendly, Friday Night Fun"; and WOW, were they rewarded for their visit!
Five-wide action for positions, 3-wide battles for feature wins, new faces in Victory Lane, & even three non-injury roll-overs (for edge-of-the-seat gasps); all during the July 8th Severson Oil Night!
Cory Crapser is the type of racer for whom everyone enjoys cheering. Even with over 230 feature wins producing multiple National Championships on his resume (both WISSOTA and USRA) his smiling humble personality makes him an easy fan-favorite.
Friday night Crapser gave his fan base another reason to cheer as he fended off a starting line up of A-List competitors to grab the evening's feature win in the Rivercity Manufacturing USRA Modified division. "Always fun to come to MISSISSIPPI THUNDER SPEEDWAY," Crapser smiled in Victory Lane after the win, "The competition is tough and we always know that Bob (Timm) is going to give us a great track to race on."
Former Track Champions Josh Angst (#99) and John Doelle (#94JR) backed up their heat race wins, from earlier in the evening, by finishing second and fourth, respectively, with defending Track Champion Brad Waits (#24) racing to the checkered flag right between them in third.
Mississippi Thunder Speedway is located 3.0 miles north of Fountain City on Wisconsin Highway 35. For more information, call 608-687-3282 or visit www.MississippiThunder.com on the World Wide Web.
USRA Modified feature finish:
1. (2) 07 Cory Crapser, Chippewa Falls, Wis.
2. (5) 99 Josh Angst, Winona, Minn.
3. (4) 24 Brad Waits, Rochester, Minn.
4. (6) 94JR John Doelle, Arcadia, Wis.
5. (3) 21 Jacob Bleess, Chatfield, Minn.
6. (7) 95 Keith Foss, Winona, Minn.
7. (9) 89 Jesse Glenz, Cadott, Wis.
8. (10) 0 Les Duellman, Winona, Minn.
9. (8) 49JR Jake Timm, Winona, Minn.
10. (1) 52W Nate Wasmund, Rochester, Minn.
11. (13) 23K Erik Kanz, Winona, Minn.
12. (11) 19 Dustin Sorensen, Rochester, Minn.
13. (14) 15B Steve Bangart, Auburndale, Wis.
14. (12) 44X Leroy Scharkey, Rochester, Minn.
15. (15) 6T7 Brian Albrecht, Winona, Minn.